TI's rep confirmed yesterday the his longtime girlfriend, Tiny is pregnant with their child. Tiny recently made a post on MySpace stating that she is carrying a boy. This will be the fifth child for TI and his second with Tiny. Congratulations to the couple!! You can read more about it under the cut. Speaking of babies, Britney Spears has officially lost custody of hers. She has also lost her visitation rights.
Kevin Federline is "awarded sole legal custody and sole physical custody of the minor children," court Commissioner Scott Gordon said in a written ruling after an emergency hearing. Gordon said Spears's "visitation with the minor children is suspended pending further order of the court."
Click here to read more on Britney's situation. Hopefully losing custody of her children will push her to get herself together. I can't imagine being told that I can't visit my own kids...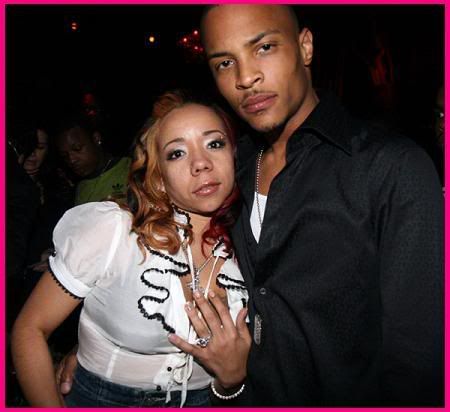 Rapper T.I. (real name Clifford Harris) and his on again, off again girlfriend Tameka "Tiny" Cottle of the '90s R&B group Xscape, are expecting another child together, the musician's rep confirms.

Cottle, 32, recently posted the news that the couple are expecting a baby boy on her personal Myspace page, which has garnered many congratulatory comments from friends and fans.

This will be the fifth child for T.I., 27, and his second with Cottle. The couple are already parents to son King Harris, 3.

News of the pregnancy comes in the middle of T.I.'s house arrest sentence in Georgia for illegal weapons charges. The rapper was arrested last October for allegedly trying to buy machine guns and silencers. He was released on a $3 million bond until the outcome of his trial, which is still pending, but must be under home confinement.
[People]