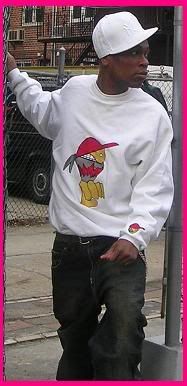 Ramses Francois has had a long history in the music industry, and is now ready to conquer it's partner-in-crime, the Fashion industry, with his new line, L'e Fran'Cois Clothing. The young 20-something year-old began his career over 10 years ago, working alongside music's greatests at Roc-a-fella Records. Starting his career as an intern in the A&R department, Ramses was groomed to learn the artist and repetoire of music, eventually garnering his own position as an A&R. His first project with Rocafella's newest artists Young Gunz, gave him the opportunity to find their first hit song "Cant stop Won't Stop", which garnered a grammy nomination. Other projects included Juelz Santana, Freeway, Kanye West, Memphis Bleek, and the movie soundtracks for State Property and Paid in Full. Always told by mentors and peers that he had a great sense of style, and should delve into fashion, Ramses has made it a reality - by introducing his new clothing line, L'e Fran'Cois Clothing - a true definition and creative blend of Ramses' unique style .
"As of now, I'm staying focused on this clothing line" says Ramses. "Just like music, fashion has always been my passion and I promise to bring something different, so stay tuned because this is just the beginning....and I promise you that."
Want to be featured on "MySpace Spotlight"?
Click Here for More Info