Beyonce, Scarlett Johansssen and David Beckham are featured in a new ad campaign for Disney shot by famed photographer Annie Leibovitz. In the campaign they each took on the roles of different Disney characters. Beyonce was chosen to be shot as Alice in Wonderland. You can check out her photograph under the cut. It's a really cute campaign and all of the pictures came out really nice. Click the link under the cut to check more pictures from the shoot...
CONTINUE READING THIS POST...
Recruited by Disney to promote Disneyland and Walt Disney World's Year of a Million Dreams campaign, Leibovitz persuaded her famous friends to dress up as classic Disney characters. The first images in this ongoing series will appear in the March issues of Vogue, Vanity Fair, W, GQ, Conde Nast Traveller, Cookie and The New Yorker.

"It was Annie's idea for me to play Alice," Knowles says. "If she wanted me to do it, I was up for it, because she's such a genius."

Knowles, 25, says Alice was one of her favorite Disney characters growing up. And, she says, "it is my sister's (Solange Knowles) absolute favorite! She doesn't know I've done it yet, so she's going to get a real trip out of seeing me in the teacup. It was freezing cold in the teacup, but it didn't matter because we were all so excited and it was shot really fast."
Click the picture to see it enlarged...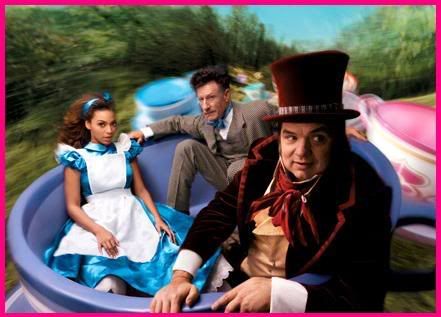 Click Here for More Pictures from the Disney Ad Campaign