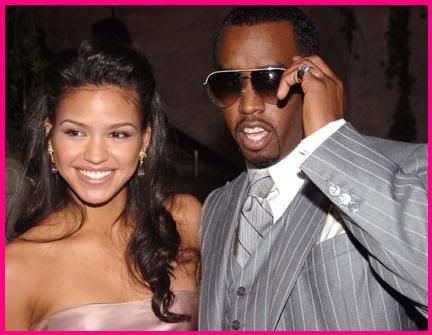 We've witnessed Cassie's
horrible performances
, we've read about her unprofessional
radio interviews
and we've also read
her defense
, all the while wondering what Diddy thought of this whole charade. Well kids, wonder no more. Here's what Diddy had to say about Cassie's recent string of bad press. He thought it was "cute". Ummm, ok??? I'd agree with that if she was, say... 2 years old. But whatever, I still like Cassie. I understand her nervousness but Diddy really needs to face the truth: That girl just can't sing, lol...
"She had her first television performance, and she had an all right performance," [Diddy] said. "You could hear the nervousness in her voice. And to be honest, I kind of smiled at it, because it made me really appreciate what I really love about her: She's a regular person. And we, as artists, we sometimes get nervous. I told her it's like riding a bike: You're gonna fall down, you got to keep on getting on it. I'm with her through her development, and I have no questioning on her ability, on her singing ability. It just made me appreciate that she got nervous, and it was kind of cute to me, to be honest.

"It takes time when you're developing a new artist," he continued. "You can't be fickle. Some people are going to have good days and bad days. The thing about Bad Boy is, we're with our artists through all days. She's not an artist that has a problem with her vocals or singing. You've got to understand that success for her is coming out of nowhere. It's just so huge, and sometimes everybody handles it differently. So I'm quite sure she'll get over it. She's going to have to. That's part of being a recording artist, and sometimes it takes time. I don't care how many performances it is, I'm going to be with her until she gets it right."
Speaking of Cassie, congratulations to her for
debuting at #4 on the Billboard charts
with sales of 100,000. Rick Ross came in at #1 on this week's chart.
[
MTV
]