Tyra Banks is on the cover of the latest issue of Essence magazine. It's a really pretty cover shot but after reading one of her quotes from the article, you can't help but feel sorry for her...
"I'd go to work [on 'The Tyra Banks Show'], and women would be crying in my arms," she tells the latest issue of Essence, on stands Saturday. "But then I'd go home and put my key in my door and … nothing. No friends, no husband, no children. I feel so full when I'm at work but so empty when I come home."
Awww poor Tyra. I'll be your friend!! You can read another snippet from the article under the cut. Click the cover picture to see it in full..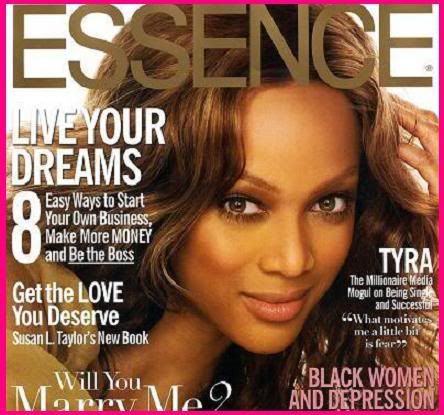 "Believe it or not," she says with a laugh, "I was just on Essence.com." Tyra was looking for more information on December's cover subjects, actresses Nia Long, Gabrielle Union and Sanaa Lathan, because, she says, she's concerned that the women are receiving unfair treatment in Hollywood. "Sanaa, Nia and Gabrielle are strong, powerful women and they are all very successful in our industry," Tyra says. "So it really upset me to read about how the money they make doesn't match up." In fact, after reading that article, she phoned her mother at 5:30 in the morning and announced, "Ma, I have a new calling."


See this is the problem, lol. Tyra can't get herself together because she's too busy trying to save everybody else...
[NY Daily News][Essence]