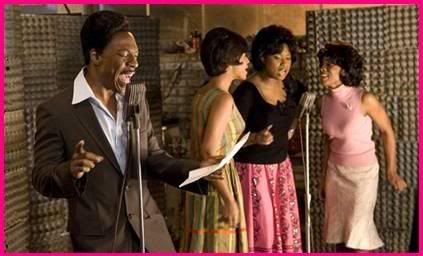 We can already count on "Dreamgirls" not winning "Best Picture" or "Best Director". Why? Because they aren't even nominated in those categories. You can read more about it below. On another note, congratulations to Jennifer Hudson and Eddie Murphy for their nominations...
Somebody had better keep an eye on Effie White. The Dreamgirls character who famously blows her stack when she's dismissed from her on-the-rise girl group presumably would not be pleased to know that her hit musical has been shut out of the Best Picture race. Babel, The Departed, Letters from Iwo Jima, Little Miss Sunshine and The Queen were instead the picks for Oscar's top prize as the field was revealed Tuesday for the 79th Annual Academy Awards.

Effie White might be quieted to learn that Dreamgirls actually walked away with the most nominations of any film—eight—including one for her portrayer, Jennifer Hudson, and costar Eddie Murphy. Then again, Effie might lose it anew, in a fit of either anger or confusion, when she drills down, and realizes that aside from the supporting acting races and Best Song category, where Dreamgirls dominated with three of five nominations, her film was snubbed in every other glamour category, including Best Director and Best Adapted Screenplay, where writer-director Bill Condon was a no-show, and Best Actress, where onscreen adversary Beyoncé Knowles failed to make the cut.