Diddy threw a "Little Miss Diddys' Pretty in Pink" baby shower in New York on November 19th for his girlfriend Kim recently. According to People.com, he received A-list gifts from people like Jay-Z, LL Cool J and Denzel Washington, among others. Speaking of gifts, who puts a Mercedes on a baby's gift registry? I understand requesting a car seat, but a car? That's a bit much. I guess that's how millionaires do it. Then again, maybe not, since nobody got them that Benz, lol. Anyway, you can read about the other extravagant gifts and shower details below. Click the link to read the full article. Diddy & Kim look so adorable in these pictures...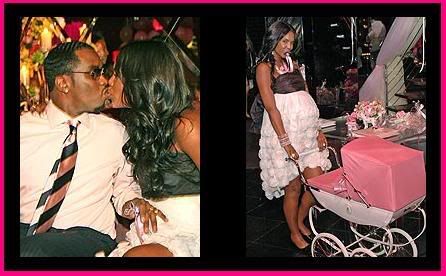 "This is the greatest party I've ever had," Diddy, wearing a cotton-candy-pink button-down shirt, told the crowd. "I'm so excited to have girls, but I know I'm in trouble now!"
There were also gifts galore – a pink and white Ga Ga Designs chandelier from Denzel Washington, a custom-made changing table from Jay-Z and two cream-colored cribs from LL.

One thing still on Diddy and Porter's baby registry: an $88,000 R-class Mercedes Benz. It's "for the twins to ride in," Shalena Smith of Ga Ga Designs tells PEOPLE. "But I showed (Kim) a $17,000 diamond-encrusted pacifier and she laughed because she's down to earth. They are realistic people. Everything (on the registry) wasn't just the bling bling."

Porter, who is due in the middle of December, teared up when Diddy professed his love for her in front of their friends and family. "I just thank God that I have a woman and a friend who has been down with me with my faults and my flaws and my B.S. and all that stuff," he said. "She's my best friend. I love her with all my heart."