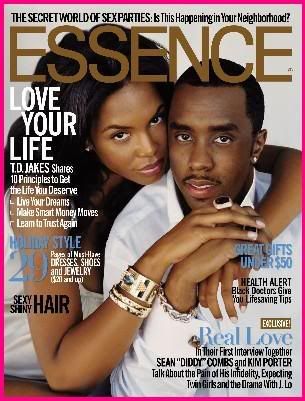 They're expecting twin girls in December, but Sean "Diddy" Combs and girlfriend Kim Porter won't get married anytime soon, the music mogul says. "I know she deserves to get married," Diddy, 37, tells Essence magazine in its December issue, "but I'm just not ready." He explains, "It's not a reflection on how much I love Kim. It's that I'm just learning how to be a good boyfriend. When I'm finished with this step, I'll move on to the next."

They began dating, but split in 1999 and then reconciled in 2003. In the interim, Combs dated Jennifer Lopez for two years. As Porter remembers of that period, "Everywhere I went, people were asking, 'Are you okay?' I just hated that." But she says of Diddy's connection to Lopez, "That relationship wasn't real. The world just saw the bright lights and the camera. But I knew what was really going on. He was still in love with me."

She adds, "People just believed everything they saw in print, and they were talking to me like I was really crushed. But I had just had a baby. I couldn't be somewhere in a corner heartbroken. I have kids. I'm a grown woman."
In her petition, Spears asks for both legal and physical custody of the couple's two children, one-year old Sean Preston and two-month old Jayden James, with Federline getting reasonable visitation rights. As for money, sources tell TMZ the couple, who married in Oct. 2004, has an iron-clad prenup. Not surprisingly, Spears is waiving her right to spousal support. She's also asking the judge to make each party pay their own attorney's fees.

Spears gives the date of separation as yesterday, the same day she flaunted her incredible revamped physique during a surprise appearance on David Letterman's show. Sources tell TMZ there was no single reason for Britney pulling the plug, rather, it was "a string of events."